"I don't have a gambling problem. I have a financial problem."
Based on a true story, the film tells about the biggest bank fraud committed by a single person in Canadian history. Dan Mahowny (Phillip Seymour Hoffman), a bank clerk with a great future who had a gambling addiction and at the same time had easy access to millions of dollars. One day he begins using his position at the Canadian Imperial Bank of Commerce to fraudulently withdraw money from various accounts to fund his weekend getaways to Las Vegas and Atlantic City.
Scruffy in his personal appearance, without even a coat to wear in the winter, driving a semi-stalled '74 Dodge Dart, Dan Mahowny was not interested in living better, but in gambling every penny he had. Dan Mahowny was not a criminal, but a highly respected person in his line of work. This is not a film about criminals, but a devastating portrait of gambling addiction.
Philip Seymour Hoffman portrays Dan Mahowny beautifully, focused at the gaming table, pathetic, paranoid, and insatiable. John Hurt also does a great job as the unscrupulous casino boss, who enjoys watching Mahowny lose millions of dollars of dubious provenance. Minnie Driver, Maury Chaykin, and the rest of the cast are perfectly believable in each of their characters.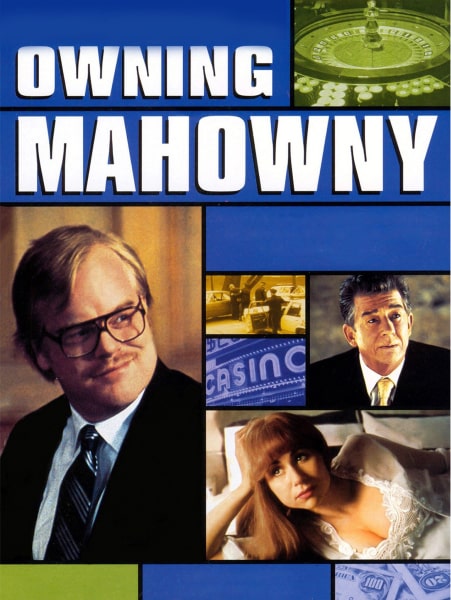 While the film has not been a box-office success, it has been well received by critics and audiences alike.
Film critic Roger Ebert called Owning Mahowny one of the best films of 2003, and described Hoffman's performance as "a masterpiece of discipline and precision", calling him "an audacious poet of implosion, playing his role with a fierce integrity, never seeking our sympathy because he knows Mahowny is unaware of our presence." For his part, journalist Gary Ross, referring to Hoffman's striking resemblance to the character he plays, emphasised his ability "to assimilate Mahowny's psychic essence – an immense emptiness that nothing but play can fill."
Winner of the Vancouver Film Critics Circle Award for Best Actor (Philip Seymour Hoffman) and nominated for Best Picture. Winner of the Durban International Film Festival Awards (South Africa) and the Chlotrudis Award (Boston) for Philip Seymour Hoffman as Best Actor, and also nominated for Genie Awards for Best Actor in a Leading Role (Philip Seymour Hoffman), Best Picture, Best Adapted Screenplay, and Best Soundtrack.
As a curiosity, the real Dan Mahowny (Brian Molony) is actually a consultant working for a fraud investigation company.